Biography
Kim was 13 when he bought a Harmony guitar for 30 dollars and played at a party in Rutland Ma., with friend Bob Harizi on bass and a drummer they had never met. After tuning guitars for an hour it was time to take the cellar stage. Their band was named "The Back Ground" and all enjoyed the experience and whatever music happened to occur. A year later, Kim joined the band, "Yadsendew"—wednesday spelled backwards. They performed at Fort Devin's in Ayer Ma., an Army infirmary during the Vietnam War. The banged up soldiers loved the performance that included well-rehearsed rock music with a light show. There were several bands that followed in the Worcester area through the 70's, 80's and 90's. "The Hansoms", a formidable rock band, "The Trailers", a country swing band, and "42nd St.", a top-forties wedding band.
After marriage and adopting their son Eric, Kim's musical compass turned toward children's music. Going by the name Mr. Kim, he wrote and recorded three children's music albums. His first album released in 2004, "Musical Child" was a winner of the Children's Music Web Award for best new artist. That was followed by his second album released in 2005, "Children of the Sea", which features "The Pop Corn Song". His third album in 2008, "Humm" was another fan favorite with 30 songs.
Kim's song, "Value You" from "Children of the Sea" was recently featured in the compilation "Someone Else Shoes" from Recess Music's "Best Foot Forward Series". The Parent's Choice Award winning album explores the theme of empathy, and has two four-time Grammy-winning tracks.
Kim is currently working on his fourth album, "Father and Son". Teaming up with his son Eric who sings on each of his previous albums, the two will create songs intended for the adult audience.
What I Do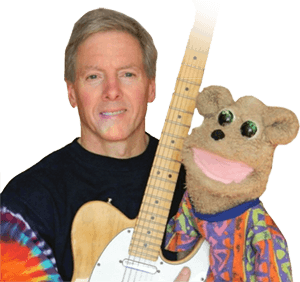 I teach and perform for preschool children using the guitar and puppets. Most performances last 45 minutes to an hour, and feature musical sing alongs, rhyming, hand play, movement (such as popping to "The Pop Corn Song"), magic tricks, and of course, puppets. Not only does puppetry fascinate children and adults alike, but it is also an excellent teaching tool rarely embraced by performers and teachers.
I teach preschool music classes during the week. These 30-minute classes are designed to teach musical concepts: steady beat, tonality, fast and slow, and Solfege (do re mi). Puppets are invaluable tools in teaching these concepts, and the joy they bring to children only enhances the teaching and learning experience.
Music
Musical Child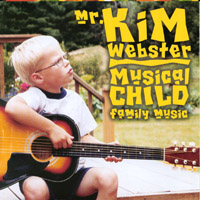 Children Of The Sea